We take a bit of a detour away from the tales about my first journey throughout Japan to focus on a more recent experience. I'm talking about the event I attended in Osaka-Jo Hall, New Japan Pro Wrestling's Dominion 6.9.
This is the reason why I spontaneously booked a flight to Osaka, Japan so here's my experience about that particular day, June 9th, and I hope you like it.
Everything I planned in advance for my trip to Osaka, was all based around the event Dominion 6.9. The date of my flight, so I would be there a few days in advance to get accustom to Osaka. My e-ticket for the event itself (even booked that before I booked my flight!) and even fixed a hostel specifically nearby the Osaka-Jo Hall (Hostel Bushi). From that hostel it's about a ten-minute walk to the arena, through the Osaka business park area, which looks ever so fancy.
Another reason I choose Hostel Bushi (aside from good reviews of course) was that I hoped that other wrestling fans would have the same mindset as me and would stay there as well. That sadly wasn't the case. The people I've met at the hostel all had their own agenda and merely gave me funny looks when I mentioned I was in Osaka for wrestling, and the cute girls running the hostel were unaware of any wrestling promotion coming to Osaka-Jo Hall (they did let out a small cheer when I mentioned 'Osaka-Jo Hall', so it must be a prestigious arena at least). So my master plan of finding and hanging out with wrestling fans in Osaka didn't exactly go as I hoped, but it was merely a setback.
Thanks to Reddit, of all things, I did discover that within the depths of Osaka, hidden deep deep somewhere in the small streets of Dōtonbori, there's a tiny café. But not just any tiny café, oh no. A tiny 'wrestling' café. Oh yes. Themed cafés are not out of the ordinary in Japan, and there are several wrestling cafés spread out through the Japanese regions. Café Count 2.99 is thé one of Osaka (Count 2.99 stands for the very last moment where a wrestler can kick out of a pin-fall before being counted out, and doing this often causes the crowd to cheer out loud in disbelief).  Count 2.99 is a small café (but Japanese cafes are small in general), filled with wrestling masks, championship belts and toys. The walls are fully decorated with pictures of wrestlers who stopped by in past, each of them signed. I basically found the source of wrestling fandom and it was here where I met Tom, who was in Osaka for the exact same reason as I was: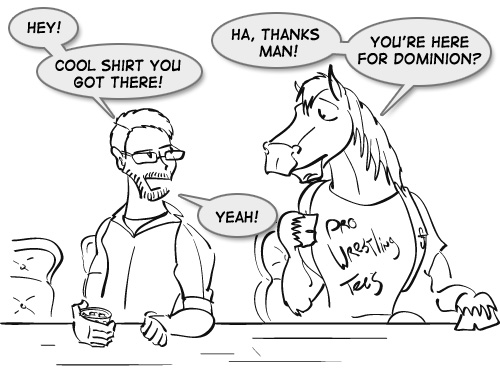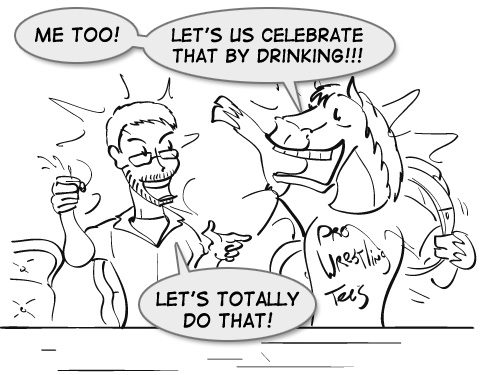 Ain't it funny how quickly people get along if they have common interests huh? What a crazy world we live in…
Tom and I agreed to meet up again on the day of the event, to venture through the plains of Osaka-Jo Hall together. We wanted to go early, see the surroundings and I personally wanted to make sure I got my real ticket asap (Tom, being an even bigger wrestling fan than me, ordered his ticket through a direct Japanese service and already was in possession of his close-to-the-ring ticket). When we met up in Osaka Business Park (yes, that is the actual name of that place), Tom had a little Japanese gift for me: Strong Zero. It's basically cheap lemonade that gets you shitfaced. After consuming a single can I already knew I shouldn't go for another. It's 9% alcohol that you drink way too fast & smoothly because, well it tastes like lemonade! So you're down for the count after 3 or 4 of these. But it was fun trying out this Japanese beverage so yeah, thank Tom. Apparently Strong Zero is more popular among foreigners than the Japanese themselves, because it's a sleazy cheap way to get drunk. Japanese are more 'classy' than that, I reckon.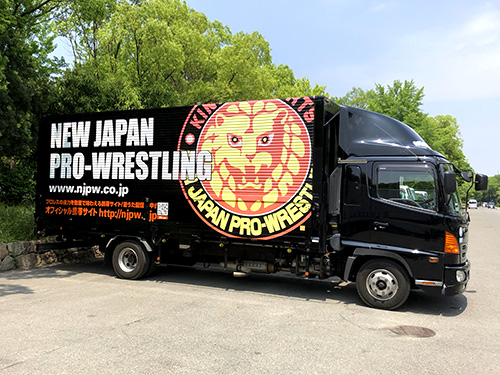 The hype slowly began once we've encountered a NJPW truck, and for a moment there we'd wonder if we would bump into a wrestler maybe. Instead we bumped into huge lines of people around the outer walls of Osaka-Jo Hall. All Japanese wrestling fans sporting their NJPW t-shirts, along with waving a fan or wiping the sweat of their foreheads with NJPW towels to endure the bursting heat that was present that day. I started to worry. We're not even noon yet and already there are huge queue lines for Dominion 6.9. Are all these people here for their e-ticket? What if they're out? I mean, I already paid for mine but maybe through some ordering errors my ticket was lost? These and more questions were running through my mind rapidly. All I had at that point was a piece of paper with a QR-code for my actual ticket, which said to collect my real ticket at the 'box office'.
It's funny how easy you can spot a foreigner in a horde of Japanese people. We've talked to an Australian bloke who was in queue, saying that these were lines for ticket seats that have opened on the day itself. He sadly knew nothing of any e-tickets or where exactly the box office was. We wished him luck on getting into the event (dunno if he did). I apparently wasn't the only one struggling with this e-ticket business, as soon enough a British fellow walked up to us, holding a similar piece of paper as I did. He was just as lost as we were. And even later we were joined by a lovely couple, also not knowing what to do with their e-ticket. It was adorable to see a 'wrestling couple', both in their favorite wrestling shirts and arguing to each other about which wrestler was going to steal the show.
We ended up with a party of six foreigners looking to replace our printed-out emails by legit entree tickets for a wrestling show. We had no choice but to join in on one of the queues, one of which we thought could only lead to the box office, because it was on the big stairs on the way up to the main entrance. Turns out it was for the merchandise stands, where I got myself a Dominion shirt. While I was holding my single shirt in line to pay, the people both in front and behind me were holding huge stacks of NJPW shirts. As if they were harvesting supplies of wrestling merchandise for a heavy winter (that metaphor doesn't make sense but whatever). In the merch queue I got a tap on my shoulder from the wrestling couple, saying with great joy that they've found the box office: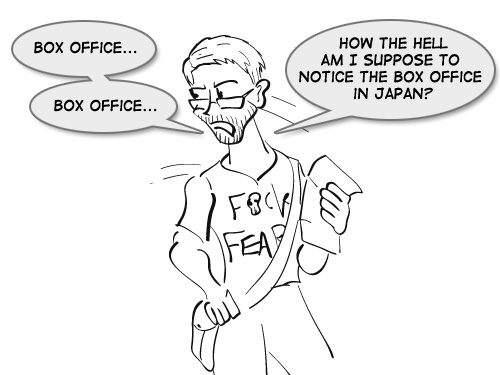 I kid you not, that was exactly what it was. A cute Japanese girl holding a big sign that said 'BOX OFFICE'. She was standing next to the window of a small office, where a man would casually go through his pile of entree tickets after you've handed over your proof of purchase. It was awesome hearing a Japanese man mumbling my name over and over again in search for my ticket: "Jo-ris-sun…Wayiah…Jo-ris-sun…Wayaih….". Not bad man, not bad at all. Words cannot describe the joy I was feeling as soon as I had my actual entree ticket in hand.
With everyone in our foreign group stocked up on shirts and tickets, we still had time to kill before the event started. A large chunk of that time was spent in the nearby Lawson (convenience store) where there was another lovely queue, that started outside and went through all the aisles of the store. Funny how you would just move along, quickly grab what you needed when you passed it and kept staying in line until you're passed the register. This Lawson couldn't ask for a better location to do business as it was the only store nearby the arena. Further down the street were restaurants, ice cream stands and of course, Takoyaki stands (the Osaka specialty). I already had my fair share of these octopus balls when I first arrived in Osaka, but these ones were probably the best I had. That's mostly because they weren't too big so they didn't fall apart when you're trying to pick them up with them chopsticks. Whatever time was left before the show, was spent on hanging out with the local cosplayers.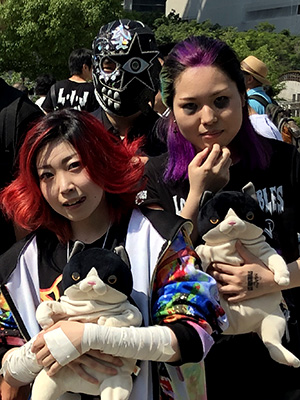 The crowd was gathering as we slowly reached 16:00, start time of the show. Time to get out of the sun (I was already heavily burned but I didn't care) and into the Osaka-Jo Hall. The crazy thing was that on the entree ticket it said that the show was gonna last around 4 hours, no drink or food was allowed inside and there were no intermissions. This felt pretty hardcore right here. My seat was decent as I had a clear view on the ring, though our section was behind the entrance ramp where the wrestlers would first show up so I couldn't see the big titan-tron installed there (it's a wrestling thing, don't think too much about it) and the very first thing I'd see of every wrestler, was their backs. It all didn't bother me at first until I noticed once everyone in the arena was seated, that right on the other side of the arena, a section with a perfect view on the ring AND the entrance ramp, was almost completely empty. Were that like the extra VIP-seats that were too expensive? I wanted to sit there! C'mon!!!
Anyhoo, the Osaka-Jo Hall is a sight to behold. It felt awesome just sitting there, between what eventually would be 11.832 people. Filming was not allowed (apparently that can end you up in Japanese jail?) but I did take some sneaky pics here and there. Not that it mattered, I was too far away from the ring to get any decent action shots. I am pretty proud though of the general picture I took of the arena, please don't arrest me Japan.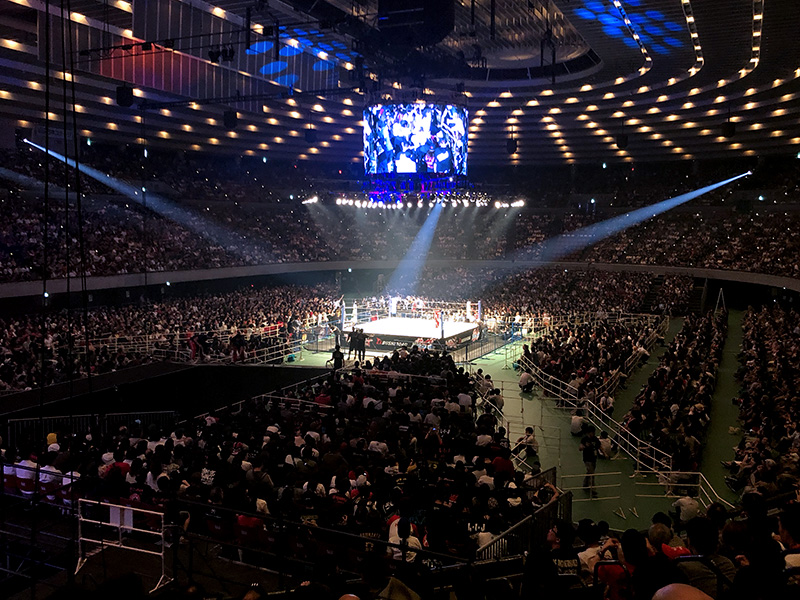 I'm not gonna go into great detail about everything that exactly went down at NJPW Dominion 6.9. You can easily find decent articles about that elsewhere. It was cool though seeing the show kick things off with the new CEO of New Japan, who apparently is from the Netherlands. Neat stuff.
Up until now I've only been to a few WWE shows in Brussels. I recall the first time ever being very special, seeing wrestling live. After a few shows though it didn't feel special anymore, because wrestlers often don't do anything spectacular for a crowd if it ain't televised. They're not gonna risk any dangerous stunts for 'only' a crowd of a few thousand people. Your jaw ain't gonna drop or anything. Here at Dominion 6.9 however, I quickly got a wake-up call as the first of many dives over-the-top-rope happened within the first few minutes of the opening tag-team match (2 vs 2). The show for the most part felt like watching them tennis matches, everyone was (mostly) silent during the matches and then cheered and applauded whenever something spectacular would happen (which was like every 20 seconds). Except that while tennis is…hitting a ball, here it's a man's elbow smashing into another man's throat and then some. See this is why tennis is boring and wrestling is awesome.
On TV you would only see the ring and the crowd would be shrouded in darkness. Those are apparently camera shenanigans because sitting there live in the arena, everyone could see everything very clearly. Sound was just as clear. Every slam, every slap, every shout (especially from that Chris Jericho fella, what a stupid idiot…) was heard throughout the Osaka-Jo Hall.
It's easy to know when you're enjoying a show, because time flew by like that. As soon as a match ended, less than a minute later the next one started. It would seem exhausting but it was exciting. The entrances of the wrestlers with their roaring theme music felt epic, horrifying yet awesome moves were pulled off in- and outside the ring. Many cheers, many roars and many 'oooooh!' whenever a wrestler would kick-out of a pinfall (you know, like a 2.99 count). We were all treated to one great match after another. I had some personal favorites at the end of the evening (the 3-way match between Michael Elgin, Hirooki Goto and Taichi; and Hiromu Takahashi vs Will Ospreay) but the main event match of Kenny Omega vs Kazuchika Okada may probably be the best wrestling match I've ever seen. Heck, I strangely got goosebumps right after the promo video package that was shown on the big screens, when the challenger Kenny Omega's entrance music hit. The entire match clocked in at almost 65 minutes total, yet it never felt that long. Everyone in that arena was so into it. So many cheers, so many claps, so many "Kenneeeeeeeeee!" screams (that actually got kinda annoying at some point). I'm personally proud that our section at one point during the match got a 'AJ Styles' chant started. It can be heard at the end of this ah…not high quality video I've found.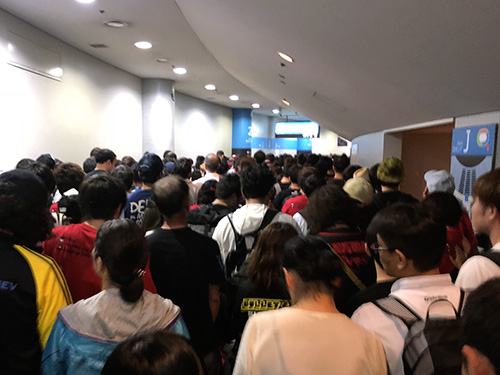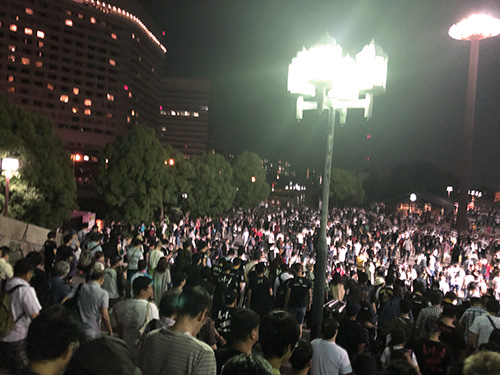 Yup, after the show nearly 12.000 strong all left the arena at the same time. Quite the experience to wrap up such a phenomenal show. Our foreigner group caught up at the lovely fountain outside the arena. Though several of our group didn't show up, they were replaced by other foreigners (and one British fellow who lives in Japan for over 10 years) that walked up to us and said "excuse me, you guys from Reddit?". To this point I've barely used Reddit. I always thought it was a dark place where lost souls go to die. Silly me.
Most of the bunch haven't been to the wrestling bar Count 2.99 before, so of course we had to go there! The bar wasn't as packed as we were expecting (we thought a lot of locals would be gathered there to watch the show), but the Dominion show was on replay on the TV screens there. It's just a strange thing to look at the screen and think "we were there, we were just there!". It was so nice to let it all sink in over a cold beer, recovering from the awesomeness that was bestowed upon us this evening. The talk was all wrestling, I think I talked more wrestling on this day with other people than I did in my entire life up until now. Pretty darn surreal. I was sadly the first one to leave because the last train rides were near midnight. As useful as it was to have a nice hostel nearby the arena, in hindsight it would have been better to be closer to the nightlife regions of Osaka. Oh well, maybe next year for another Dominion show.
I'll leave you with a picture of the menu at Count 2.99. We had some decent grub there. Can you spot what is misspelled and gave us a good laugh?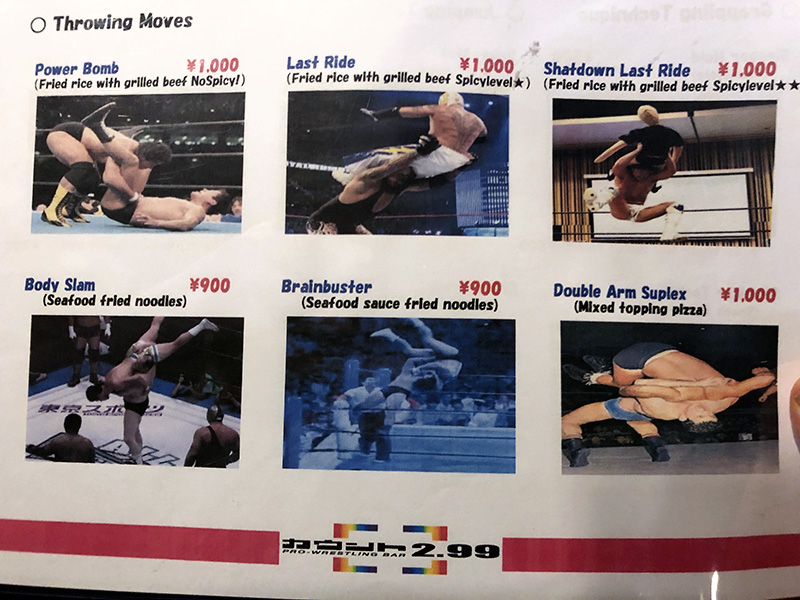 Share this story with your friends, family and those who wanna go to Japan