Sawadee Summary
Through private rail tracks and a ropeway we'll reach Mount Koya (Koyasan) in about 5 hours. On the mountain you'll find the biggest and most mystic graveyard of Japan. The amounts of graves seem uncountable and are thanks to the lighting through the trees very photogenic. Koyasan has no less than 120 temples and we'll be staying in the guestrooms of one of these temples. We'll also be dining along with the traditional priest meals.
Joriss Summary
Was it like 5 hours? It felt like a lot less. I didn't really feel like I was on a mountain, more just like in a peaceful village. Mythic doesn't even do the graveyard justice. It's size and beauty is on a different level. 120 temples feel like an overstatement, since Koyasan is basically just a few streets big…
---
The beautiful resting place of the dead
I once made a little comic about the experiences of having a hangover. Well, I discovered that having a hangover in Japan is slightly different: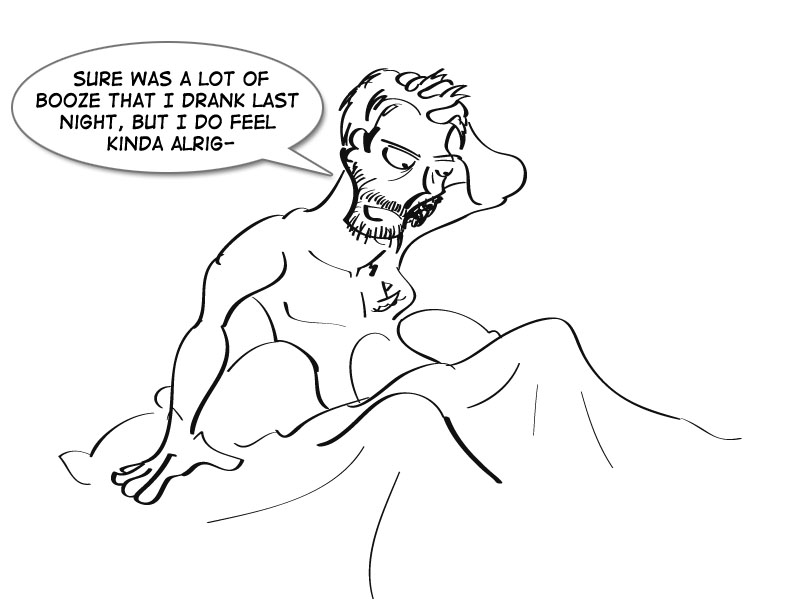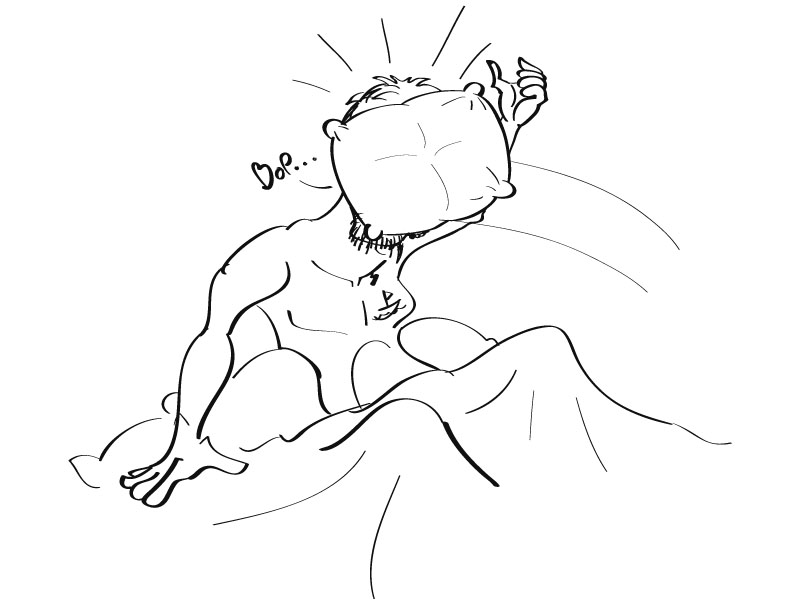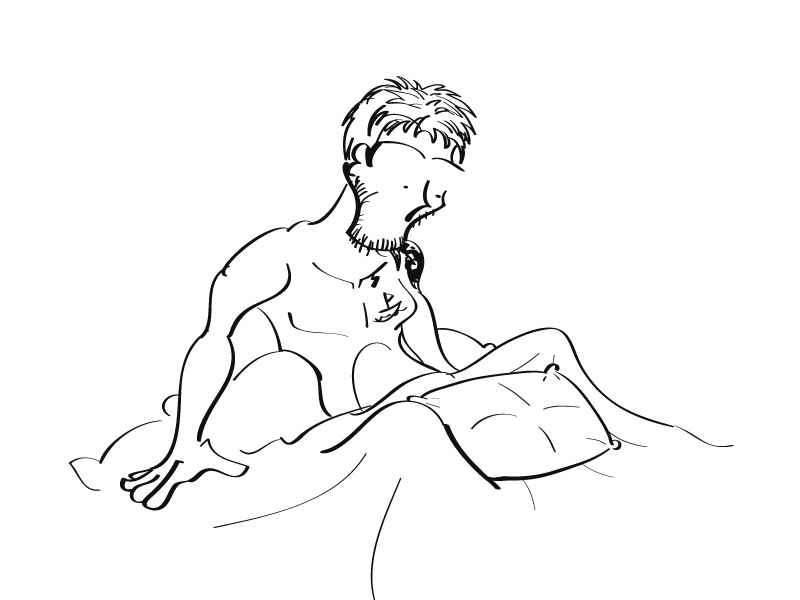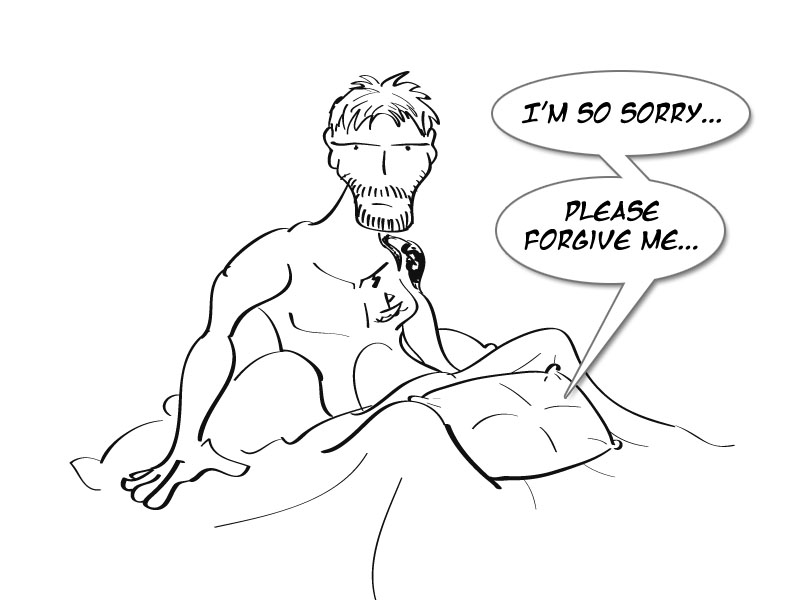 We got up pretty early to catch our train for Koyasan. Due to its location, we were in for quite the trip. Though looking back at it, it wasn't all that bad. We started out with another lovely Shinkansen ride, where I could catch some more sleep, and then another small train that would take us to the ropeway station. You 'can' if you really want to, just walk up the mountain of Koyasan, but it would take you hours to maybe even a day while the ropeway is only like 15 minutes. It was funny to ride this thing, because it simply went diagonally up. Heck, the thing was even built diagonally. The ropeway was filled with all sorts of tourists, all out for that classic Japan village experience.
Once up, we took a bus to our destination. At this point we were very grateful for our guide and everything that has been arranged, because he just had to point out which bus we were going to take and we were set. The other tourists almost seemed to panic as they ran around looking for help on their maps, while any of the bus drivers couldn't understand a single word of English.
We arrived shortly at our…hotel. Well you can't really call it a hotel, but a temple lodging or 'shukubo'. It is basically a temple transformed into an inn. The plan was to drop off our luggage and go explore, but we first all had to take off our shoes at the entrance before entering, even if it was just to place luggage inside of the entrance. Well staying here was going to be interesting.
I got a small peek of the room I'd be staying in, and at first I thought I was in for a hardcore sleep in this place. Then I saw the TV in the corner, as well as several plugs to charge your phone and even a small sign with wifi-information on it. This shukubo has been totally modernised. I guess that's probably all for the best…
Koyasan is known as the center of Buddhist study and it is easy to see why. There was a peaceful vide in the village unlike anything I've experienced before. It felt like the ultimate get-away-travel-location. Hell, you become almost afraid to make any noise (and that comes from somebody who apparently can be quite loud…if I must believe what my friends tell me). And there's nature everywhere you look. While the colours of fall weren't there yet, again we got some lovely teasers of it. If only we were here a few weeks later…
Koyasan seems ridiculously small compared to Hiroshima and Nagasaki (and those places are considered very small compared to something like Tokyo). It's only a few streets long and the most important stuff can be seen on a single main street. You go right; you can visit the temple complex. You go left; you get the graveyard. Still, that stuff will keep you occupied for an entire day. Because of how peaceful everything is, you get the habit of doing everything with ease. Slow down…there's no rush in Koyasan.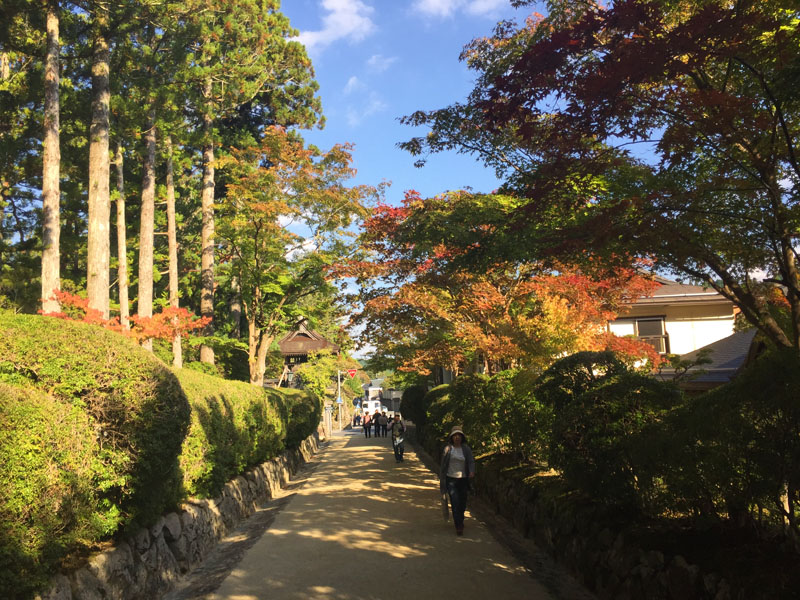 We went right and after walking on a beautiful path filled with green and red trees, we set foot on the Danjo Garan complex. To put it in Joriss terms; this place puts any temple we saw back in Miyajama to shame. This is the real deal. The size and beauty of every temple was incredible, and at every temple there was a monk on guard, who'd watch you as you remove your shoes before entering, as well as placing your fee in the entry box. There were information signs mentioning in badly translated English that every fee goes to the maintenance of these temples. Make sense, seeing how clean and well kept they all are.
Among the complex is the biggest temple bell that I've ever seen. Another sign nearby informed us of the times it would be rung, and that the many little bells hung on the top of the pillars of the temples would ring in sync. I'd reckon it would be a sound that I didn't want to miss, so I had to check back in the evening around 21.00.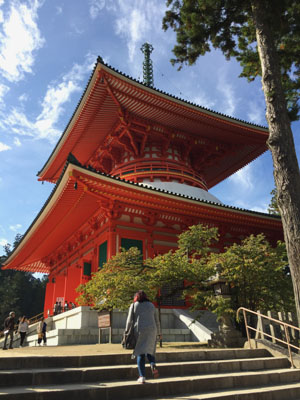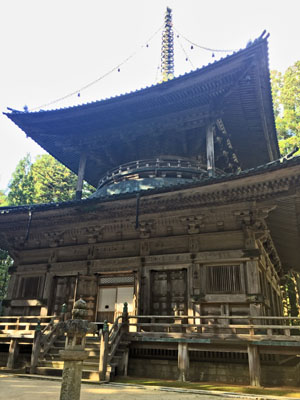 Our guide warned us that the dinner at our stay might not fully satisfy our stomachs (it was fully vegetarian), so I took no chances and enjoyed a nice 'beef bowl' in a small local restaurant. After that, it was time for the legendary place known as Okunoin.
By having the grim reaper tattooed on my shoulder, you should say that I find many a things related to death fascinating. And in that regard, you would be right. But death isn't always as morbid as people think. Okunoin is proof that something so heavily related to death, can still be one of the most beautiful things in life. In other words…Okunoin is a must-see.
Okunoin is a cemetery in a big forest. I had no high expectations. Just a 'little' old Japanese cemetery in a forest. You walk past a few rows of tombstones, visit a shrine and you're done. Right? Wrong! Okunoin is HUGE! Massive! Tombstones for daaaays! It's absolutely incredible!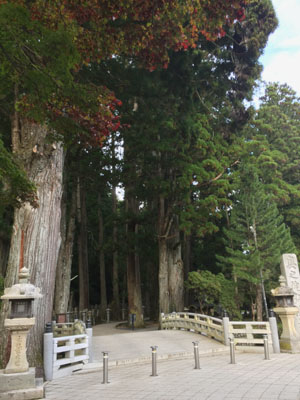 You explore the cemetery by a large, lengthy path that leads to a lantern hall at the end. On every side you have hundreds and hundreds of Japanese tombstones. Some tombstones are there for centuries, while others are placed like, just last month. All in all, it is absolutely beautiful. There are many side paths that you can take to venture deeper into the forest, only to discover even more tombstones! I've spend some time exploring off the main path, but at this rate I could spend weeks in the forest and still not have seen everything there is.
I still took my sweet time looking around, because by the time I've reached the end, I was too late to visit the lantern hall. In Japan they're very strict on their opening & closing hours, and I saw the giant doors of the hall close before my very eyes. Oh well, now I got an excuse to come visit again!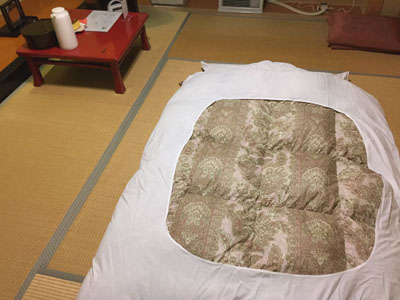 It was already dark by the time I was back at the beginning of the cemetery, and I was just in time for dinner once I reached our shukubo. Many of our group were already sitting in the main dining room (literally sitting, you only get a cushion of some sort to sit on. The monks were kind enough to provide a small chair to the older people in our group) and most were dressed in a kimono! Apparently we all had one waiting for us in our rooms. Aside from finding my kimono, my 'bed' was also set up. A 'futon' to be specific. The mattress is insanely thin so I'd be almost in direct contact with the (tatami) floor. Either I'm going to sleep like a baby tonight, or not all. I knew there wasn't gonna be an in-between.
I'm no fan of selfies, so there's no picture of me in a kinomo, but we'll end this post with an illustration of what it looked like: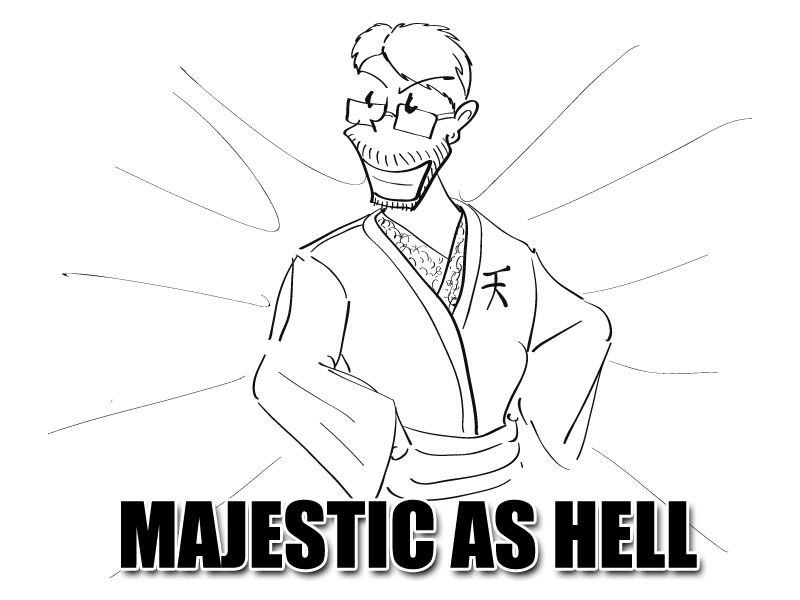 Join me next time for the evening experience in Koyasan! Our day is far from over.
Share this story with your friends, family and those who wanna go to Japan
Want more of Joriss…in Japan?